Vinashin – An English solution for an Asian problem
Related people
Duc Tran
Partner
Ho Chi Minh City
Fiona Cumming
Partner
London
28 October 2013
​The English court recently sanctioned a scheme of arrangement to restructure a loan facility entered into by a Vietnamese company with no known assets outside Vietnam.

The only connection with England was that the debt claims being compromised were governed by English law. This ground-breaking deal shows that a scheme may therefore be an option for many restructurings in Asia.

The English court also effectively introduced a stay on creditor action, which deals with one of the key historical weaknesses of schemes as a restructuring tool.

These developments, together with other recent innovative transactions, mean that schemes may challenge US Chapter 11 as a global restructuring option so it is vital that all investors be aware of the way that their contractual rights may be overridden.
INTRODUCTION
Assuming that all parties are acting in good faith, it must be right that a debtor in financial difficulty be able to agree a financial restructuring with a majority of its creditors without that deal being hijacked by a dissenting minority.
Until recently, this has been difficult to achieve in most Asian jurisdictions.  Processes to allow a cram-down of minority creditors may well be on the statute book but they are often not favoured by creditors because they are untested or have uncertain outcomes.  There are also particular difficulties in dealing with English law governed claims.
However, in the restructuring of Vinashin1, which completed on 10 October, the English court confirmed that it is willing to accept jurisdiction to allow a scheme of arrangement where the debtor has no assets in England.  In fact, in this case the debtor had no known assets outside of Vietnam but, crucially, the debt being restructured had been advanced under an English law governed facility agreement.  This is the first time that this structure has been used in Asia and creates an important precedent for restructurings throughout the region.
This ground-breaking use of a scheme prevented the collapse of a significant business in Vietnam, saved many jobs and ensured that creditors received a significantly better recovery that would have been the case on a bankruptcy.
Allen & Overy acted for the facility agent and the coordinating committee of lenders on the restructuring.  A separate team also advised the fiscal agent on the issue of notes to replace the facility being restructured.
BACKGROUND TO THE VINASHIN SCHEME
Vinashin is a significant employer and a strategically important industry to Vietnam.  At its peak in 2008, it was the 5th largest shipbuilder in the world and employed in the region of 50,000 people.  It also has peripheral business interests in related industries such as construction, transportation and finance.
A combination of operational issues, adverse conditions in the Vietnamese economy and the downturn in the global shipping industry has resulted in Vinashin being in financial difficulty since 2008.  There was no credible prospect of recovery for the business without a financial restructuring of its domestic and foreign law governed debt.
One particular facility made up the majority of the foreign law governed debt and, therefore, Vinashin and the Vietnamese government treated agreeing a restructuring of that facility as a priority.  After lengthy negotiations a deal was agreed with a majority of the lenders but it was clear that a fully consensual deal with 100% of lender support was not realistic.  
The challenge was then to find a suitable implementation strategy.  Vietnamese law does contain a rehabilitation process which might, in theory, have been used but, in practice, it would not have achieved the goals of any of the stakeholders. 
WHAT COULD A DOMESTIC SOLUTION HAVE LOOKED LIKE?
Vietnam's Law on Bankruptcy (Bankruptcy Law) came into effect in 2004.  The Bankruptcy Law provides for two main types of process: i) rehabilitation; and ii) liquidation.  These procedures will be generally familiar to those dealing regularly with common law jurisdictions. 
In Vietnam a debtor is deemed to be insolvent when a demand has been made for a payable unsecured debt and the debtor has failed to pay that debt.  So there was little doubt that Vinashin would have been considered insolvent and therefore bankruptcy proceedings could have been commenced. 
This would have provided Vinashin with breathing space as commencement of bankruptcy triggers a moratorium on civil actions by unsecured creditors.  Vinashin would likely have been able to have its domestic process recognised in England under the UK version of the UNCITRAL Model Law on Cross-Border Insolvency (the Cross Border Insolvency Regulations 2006).  This recognition would have imposed a stay in England and prevented individual creditors from seeking to enforce their individual debt claims through the English courts.
Following the commencement of bankruptcy, a creditors' meeting would have been called at which the creditors would have determined whether the business of Vinashin could be rescued.  If more than half the number of unsecured creditors present at the meeting and representing at least two-thirds of the total unsecured debt approved rehabilitation, then Vinashin would have been required to submit a rehabilitation plan to the court.  The plan would have needed to identify how the business would have been recovered and debts paid off.  It is also possible for a creditor to submit a rehabilitation plan to the court. 
The court would then have needed to approve this plan before its submission to creditors for final approval.   The same majority requirement applies to a vote to approve a particular plan as the vote to approve rehabilitation.  Following the creditors' approval, a rehabilitation plan will be recognised by the court and becomes effective.  Vinashin would then have had a maximum of three years to complete the plan.
In Vietnam a court may order commencement of liquidation, rather than rehabilitation, if rehabilitation is voted down by the creditors or otherwise fails.  The court's decision to commence liquidation will contain a plan for distribution of the company's assets based on a statutory order of priority: secured creditors, assistance granted by government, costs of bankruptcy, wages and then unsecured creditors.  Any remaining funds will be returned to the company.
SO WHY WAS A DOMESTIC SOLUTION SUCH AN UNPALATABLE OPTION?
On the face of it, the Vietnamese rehabilitation process appears a viable solution.  In common with procedures in many other jurisdictions, it is a rehabilitation process which requires majority creditor approval of a plan, has court involvement and liquidation as the alternative if the plan fails.  It could also have created a clear moratorium on action by creditors, which is a traditional weakness of schemes of arrangement.
So far, so good.  However, there were a number of important factors which meant that a Vietnamese rehabilitation process would not have been successful.
Dilution risk – In a Vietnamese process it would not have been possible to deal with the lenders under one particular facility in isolation from the other creditors.  This is because the rehabilitation process is part of the bankruptcy process so all unsecured creditors would have voted together.  Therefore, from the international creditors' perspective, allowing a domestic process introduced real uncertainty and the possibility of a different commercial deal because this restructuring was more favourable than that offered to domestic creditors.
Effectiveness - Vinashin was seeking certainty that the restructuring would create a clean break from its past liabilities.  However, as a matter of English law, a foreign discharge of English law governed debts is ineffective.  This is regrettable and is the result of old case law2 but it does remain the English law position.  Therefore, simply using a Vietnamese process to restructure Vinashin's debts was not a deal that Vinashin and therefore the Vietnamese government could support.  Knowing that a dissenting creditor might subsequently obtain a better recovery might also have made it difficult for generally supportive creditors to accept the restructuring.
Wider strategic issues – It is likely that one goal of the Vietnamese government was to re-establish international investor confidence in Vietnam as a jurisdiction in which they should do business.  Following an internationally recognised procedure which included the oversight of the English courts demonstrated a desire to comply with international norms and likely assisted in this respect.
Inexperienced courts and untested process - The Bankruptcy Law contains many unclear provisions which would have made a bankruptcy process very time consuming.  There is also real lack of precedent with less than 100 companies being declared bankrupt over the last 8 years.  Therefore, there was a concern that commencing a bankruptcy process might have quickly resulted in a liquidation of Vinashin.
HOW WAS IT POSSIBLE TO USE A SCHEME?
The challenge was then to find a suitable alternative in a situation in which there were no known assets outside Vietnam.  This precluded a number of options commonly explored in distressed situations, such as a US Chapter 11 process.  Fortunately, recent developments in European restructurings provided the solution.
An English scheme of arrangement is available for any company that is liable to be wound up under the English Insolvency act.  "Liable to be wound up" is an imprecise phrase as, in theory, an English court may determine that any company incorporated anywhere in the world may be wound up in England.
In practice, the English court has developed a test based on considering whether there is "sufficient connection" to England when considering whether to exercise its discretion to allow an overseas company to be wound-up.  This concept is also applicable to schemes of arrangement and, over a number of years, the English courts have been considering what constitutes a "sufficient connection" to allow a scheme of arrangement to be used for an overseas company.  
The traditional option, which has previously been used in Asia for the restructuring of Garuda airlines, is to show sufficient connection to England through the location of assets in England.  However, this wasn't possible for Vinashin. 
Accordingly, it was necessary to rely on a newly developing line of cases in which the English courts had held in a European context that English law governed debt claims could be the subject of a scheme of arrangement.  Outside of the European context, this flexible approach of the courts has also allowed a scheme to be used in the Middle East3 and now, with Vinashin, in Asia.
The law in this area is still developing but, based on the current precedents, one can be confident that an English court will accept jurisdiction for a scheme provided that:
The creditors being schemed have signed up to common documentation governed by English law, such as a facility agreement or bond terms and conditions; and

Evidence can be produced (usually in the form of a legal opinion) that it is at least reasonably likely that the effect of the scheme will be recognised by the courts of other relevant jurisdictions, in this case Vietnam.
It is possible that over time these criteria will loosen further because the cases show a clear trend of the English courts being willing to extend the circumstances in which they will accept jurisdiction to facilitate restructurings.  For example, the court may be willing to accept jurisdiction for a scheme of arrangement where the relevant creditors have independent claims governed by English law rather than claims governed by common documentation.
WHAT DOES THE CASE MEAN FOR THIS REGION?
The Vinashin case may have important implications for the Asian-Pacific region.  It establishes a clear and important precedent for implementing restructurings of English law governed claims and therefore the procedure is likely an option for distressed situations throughout the region. 
There are a number of additional factors which point towards schemes developing into a powerful and commonly used tool across the region:
The introduction of a stay – It has long been a weakness of a scheme of arrangement for restructuring purposes that it contains no stay on creditor action thus allowing an individual creditor to destabilise the process by taking enforcement action.  However, during the Vinashin restructuring the English court was willing to exercise its discretion to stay legal proceedings brought by dissenting creditors to allow a scheme to be implemented.  It was likely crucial to the court being willing to grant the stay that a sufficient majority of creditors had entered into a binding contractual commitment to implement the restructuring4.  Nonetheless, this is a powerful additional protection which helps turn the English scheme into a true rescue procedure, at least in circumstances in which it is a question of when, rather than if, a restructuring will be implemented.

A scheme of arrangement is not an insolvency process - The fact that a solvent company can also make use of the process has important consequences.  It means that the stigma of a true insolvency proceeding can be avoided, which may mean that it is an attractive option for a number of Asian situations where protecting an individual's reputation may be an important factor in getting a deal done.  In addition, it allows the process to be used even where the relevant company was solvent.  This is a crucial point for investors because it means that contractual documentation may be overridden outside insolvency.  For example, an English scheme has been used to extend the maturities of various classes of notes issued by a company that was balance sheet solvent even though a vote would have been defeated under the documentation. 

The only option - As discussed above, under the existing law the only way to be certain that an English law governed claim has been effectively compromised is by using an English procedure.  Until recently, most practitioners anticipated that this position would be changed by the English courts and that foreign compromise processes would begin to be recognised as being effective.  However, the English Supreme Court5 recently made some firm comments that cross border insolvency recognition is a matter that should be developed by legislation rather than the courts.  Accordingly it now appears likely that this obstacle to using non-English processes will remain in place for some time. 

A Hong Kong and Singapore solution? – Hong Kong and Singapore both have scheme of arrangement legislation and may find the recent developments in England persuasive for their own processes.  If so, then the scheme of arrangement will become a potential solution for claims governed by English, Hong Kong or Singapore law.

Targeted application – As was the case on Vinashin, it might not be appropriate for all creditors to be treated in the same way in a distressed situation.  The scheme process is flexible enough to compromise the claims of creditors under just one specific facility or instrument.  This may be a particularly useful factor as the complexity of Asian corporates financing structures increases and a mixture of domestic and international debt becomes more prevalent.
FURTHER INFORMATION
The Vinashin scheme of arrangement is a publicly available document and may be accessed through the website of the Singapore Exchange (http://www.sgx.com/wps/portal/sgxweb/home/company_disclosure/prospectus_circulars) by selecting the company name Debt and Asset Trading Corporation.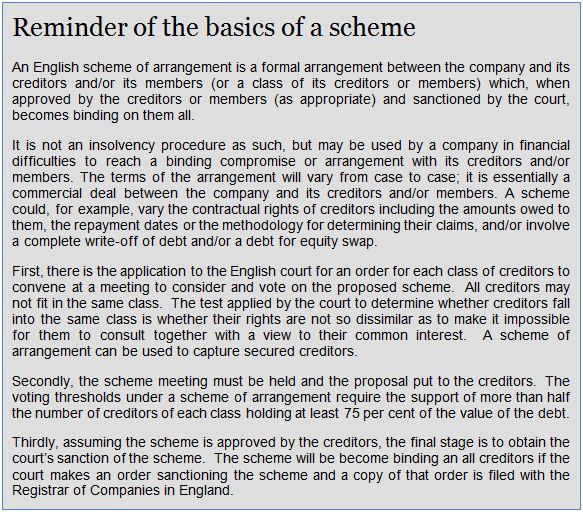 1 Vietnam Shipbuilding Industry Group
2 Gibbs & Sons v Societe Industrielle et Commerciale des Métaux (1890) LR 25 QBD 399 (CA)
3 This was the restructuring of Global Investment House K.S.C.(c), a Kuwati company, on which Allen & Overy acted for the coordinating committee of creditors.
4 This important factor distinguishes Vinashin from the earlier Hong Kong case of SK Global (on which Allen & Overy also acted) in which the Hong Kong Court of Appeal overruled a first instance decision and determined that a stay on enforcement should not be granted to assist a restructuring.   
5 in the case of Rubin v Eurofinance SA [2012] UKSC 46